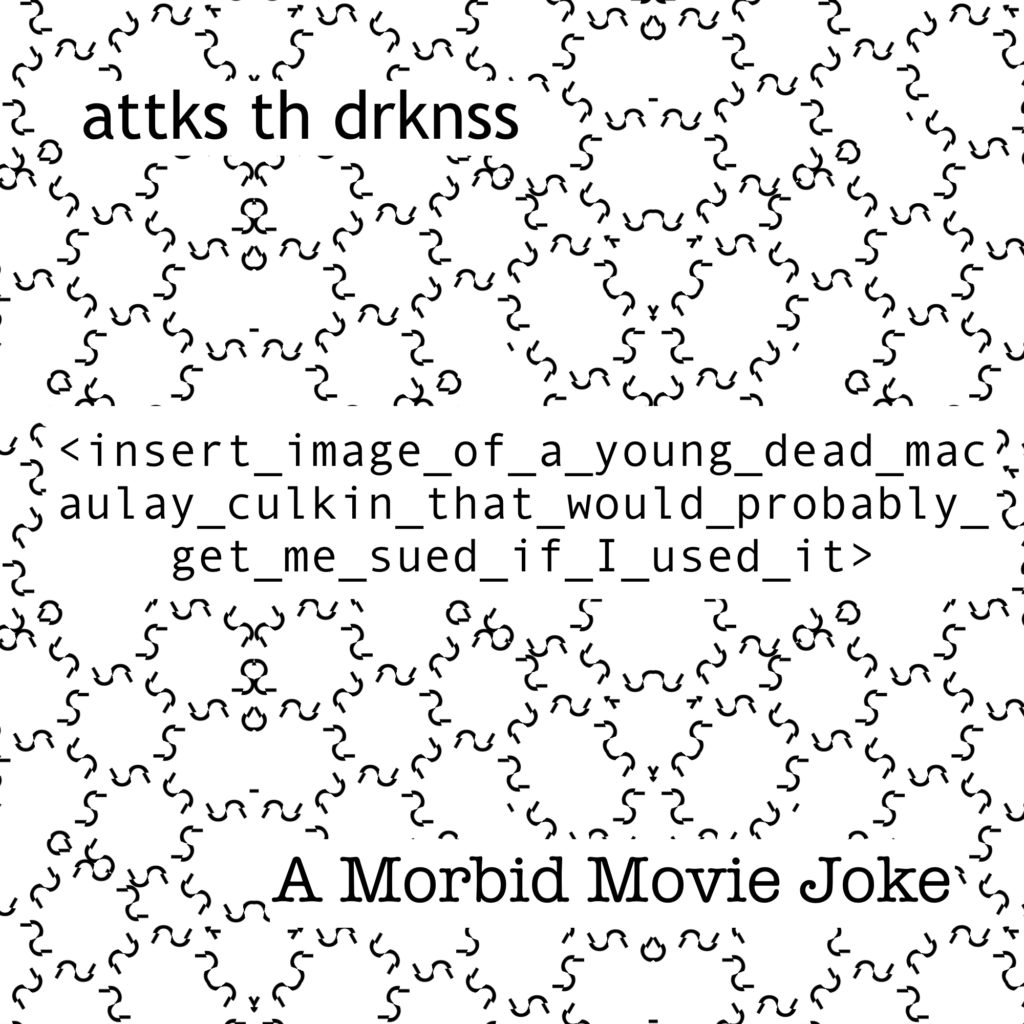 Written, recorded, produced, performed, and mastered by dAVE Inden (attks th drknss)
Released May 2, 2023
A Morbid Movie Joke was created by dAVE Inden as attks th drknss. The entire record was made in Seattle, WA, USA.
Up to this point much of the music dAVE has made was inspired by his daughter and being a father. For this record dAVE drew his inspiration from his wife and their relationship. The song titles are all inspired by different events or phases in their relation from the very beginning through getting married and having their daughter.
The title of the record, A Morbid Movie Joke, comes from a time from before they began dating where dAVE's wife made a joke regarding a swarm of bees outside a coffee shop. It was swirling about and there seemed to be hundreds or thousands of them just outside on the street. People were very curious as to what was going on and started to go outside. dAVE's wife made a joke about the movie My Girl and how if people weren't careful they would end up like Macaulay Culkin's character. dAVE instantly fell in love and wanted to be with her from that moment forward.
The record is five tracks. The songs are presented in chronological order from the start of everything up to present day. The sounds all come from samples either recorded by dAVE or created in Reason by dAVE. There are field recordings from dAVE's phone, loops of sections from generative synths and other instruments, grain synthesis, and slowed down audio that is unrecognizable from its original form. The improvised performance of each piece, except for the last track, was done on a Roland SP-404MKII and recorded directly to the final version.
A swarm of bees (7:06)

Where it all started. A simple joke made in a corporate coffee shop was all it took for dAVE to see the amazing person sitting right there that they should spend the rest of their life with.

There is a Wild Horse Loose in the Rage Cage (5:50)

One time at a music festival that happens in the summer at a polo field dAVE mistook the sample of a horse that was in a Chemical Brothers song as the sound of a horse that had gotten loose and was running wild.

Losing both my toe nails (6:38)

At their wedding dAVE danced so much that both of the nails on their big toes turned black and fell off. They eventually grew back. Totally worth it.

Is that a distant call of a conch shell or is it just the shower again? (6:43)

After purchasing their home it was noticed that the shower often made a honking sort of sound that was similar to the sound of someone calling for assistance at the edge of a cliff in a battle of good and evil where the world as we know it hangs in the balance.

Everything we create is beautiful (27:55)

The title of this track was the original name of the record. It is a drone made from the audio of dAVE's wife and daughter singing Twinkle Twinkle Little Star slowed down tremendously so that it becomes something else just as beautiful.